When you need a high quality, durable and dependable safety bag system to protect people from falls, Zero Shock™ is the answer.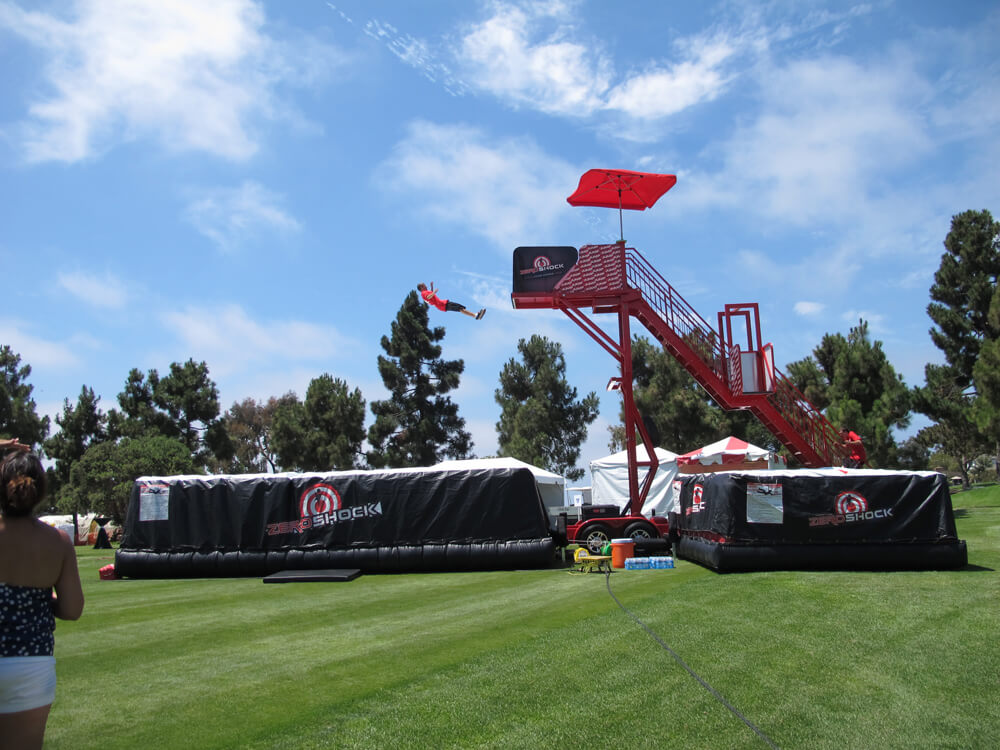 Zero Shock™ Impact Prevention Systems
Unlike many inflatable bags that propel people back into the air, Zero Shock impact safety platforms ensure a soft landing that cradles the impact and keeps the person safe. Ideal for amusement parks, extreme sports, civil rescue and commercial building, the Zero Shock™ inflatable air bags are versatile and can accommodate more than one person landing at a time. The bags reset instantly meaning once one person has climbed off another can jump. If you are involved with stunts, extreme sports, civil rescue operations or construction site safety, get a Zero Shock™ inflatable impact safety platform today.
Extreme Sports Facilities

Greater Versatility /
Any Size
ZS air bags can be created in any shape. Whether you need a 6' (2m) -wide bag that snakes between objects or terrain, it's not a problem, as any part of the bag is safe to land on. In addition, the top surface can undulate to create any shape or profile.

Softer
Landing
Pressure within the air bag can be regulated, from being as soft as a foam pit to being so firm that a bike can land on it and still be effective. This makes it the only choice as a substitute for foam pits for gymnastics and extreme sports.

Smaller
Footprint
ZS air bags can be extremely small, both in footprint and height, because the 'fingers' behave like shock absorbers. This makes them perfect for areas where normally a large foam pit would be used, especially in gymnastic applications.

No
Sweet Spot
Not only are ZS air bags softer to land on – you can also land anywhere on the bag – right up to the very edge! – Without being bounced off. Our patented design allows for a body to 'krush' the fingers upon impact, which forms around the body to cradle the impact.

Instant
Recovery/Recoil
Zero Shock™ Air Bags reset instantly! Only a small amount of air is expelled through the 'fingers' directly underneath the impacting body and the system has reset itself even before the person has climbed off of the bag. This means another body can land on the bag while the first body is still on it.

Multiple
Landings
More than one person can land on the bag at the same time with almost no effect in the quality of the landing and no tendency for one person to bounce the other one off of the bag. Depending on the height of the fall, they can be as close as 24" apart and still be safe.
Have Questions on Whether to Purchase or Rent?
drop us a line. Maybe we can Help.